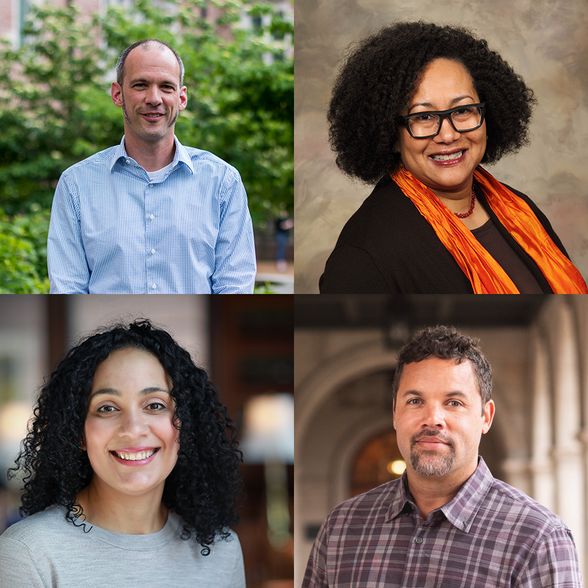 The movement for racial justice and ending police violence has been building for many years, and we are standing on the shoulders of the hard work people have been doing to build awareness. Washington University is uniquely positioned to both study these issues and to apply that knowledge to address them.
 
This webinar will feature David Cunningham, chair of the sociology department; Hedy Lee, professor of sociology and co-director of the Center for the Study of Race, Ethnicity & Equity; and Geoff Ward, professor of African and African American studies and associate director for the Center for the Study of Race, Ethnicity & Equity, in a discussion on police brutality and other forms of racial violence and how the WashU community can work to address these issues in pursuit of transformative justice. They will also discuss their collective research project examining the legacies of racial violence. This event will be moderated by Adrienne Davis, vice provost, William M. Van Cleve professor of law, director of the Center for the Study of Race, Ethnicity & Equity.
This event is sponsored by the WashU Engage Chicago Network and the WashU Black Alumni Council.
About WashU Engage: Chicago
WashU Engage is an initiative co-led by the Gephardt Institute for Civic and Community Engagement and the Washington University Alumni Association which aligns with the university's commitment to supporting habits of lifelong learning and leadership for alumni and advances the Gephardt Institute's mission of cultivating informed and actively engaged citizens. The mission of WashU Engage: Chicago is to expand the current WashU Engage model and plan and produce several civic and community engagement activities throughout the year for WashU alumni in Chicago to deepen alumni's connection to each other, their community, and campus life. These events have included volunteering at a soup kitchen, park restorations, Toys for Tots Collections, and more, all in conjunction with a discussion about the related challenges in the community that we are addressing with each event. WashU Engage: Chicago is expanding to delve deeper into these discussions through panel discussions about civic and community engagement.

About the Black Alumni Council:
The mission of the Washington University Black Alumni Council is to support the professional and personal development of Washington University Black alumni, to assist the university in the recruitment and retention of African-American students, and to enhance the continued growth and development of the university as an exemplary institution.
Please note this event will be recorded.
Sorry, but registration for this event has closed.