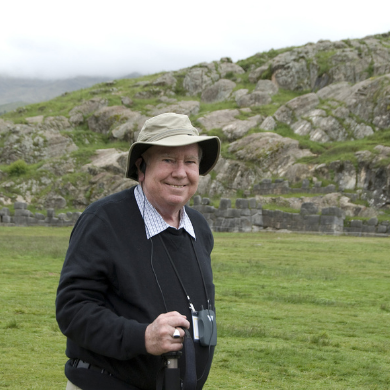 Peter H. Raven, George Engelmann Professor Emeritus of Botany at Washington University and Missouri Botanical Garden President Emeritus, will discuss Driven by Nature, his newly released autobiography that takes readers across multiple continents and decades. Driven by Nature follows the globetrotting botanist from China to the American Midwest as he works to foster concern for a changing planet, further the cause of biological education, and build the Missouri Botanical Garden into the world-renowned haven for plant life it is today. Barbara Schaal, the Mary-Dell Chilton Distinguished Professor and a nationally recognized plant evolutionary biologist, will lead our discussion with Dr. Raven expanding on the autobiography and his relationship with WashU through his many years of work in Missouri and around the world.
 
More about Peter Raven: 
Peter H. Raven is one of the world's leading botanists and advocates of conservation and biodiversity. Described by Time magazine as a "Hero for the Planet," Raven champions research around the world to preserve endangered plants and is a leading advocate for conservation and a sustainable environment.
Raven joined the Department of Biology at Washington University in St. Louis in 1971 and two years later was appointed George Engelmann Professor of Botany, a position that had been created in 1884 and has been held by subsequent directors/presidents of the Missouri Botanical Garden for more than 130 years. He held this position until 2010, chairing, co-chairing, or serving on the committees of some 30 PhD students, often jointly with Prof. Barbara Schaal. Now emeritus, he continue to encourage relationships between the university and the garden.
For four decades, he headed the Missouri Botanical Garden, an institution he nurtured into a world-class center for botanical research, education, and horticultural display. He retired as president in 2010 and assumed the role of president emeritus and consultant through 2014.
In recognition of his work in science and conservation, Raven is the recipient of numerous prizes and awards, including the prestigious International Prize for Biology from the government of Japan and the U.S. National Medal of Science, the country's highest award for scientific accomplishment. He has held Guggenheim and John D. and Catherine T. MacArthur Foundation fellowships. He initiated and co-chaired the Flora of China project, which was completed in 50 volumes in 2013.
Raven was a member of President Bill Clinton's Committee of Advisors on Science and Technology. He also served for 12 years as home secretary of the National Academy of Sciences and is a member of the academies of science in Argentina, Brazil, China, Denmark, India, Italy, Mexico, Russia, Sweden, the UK, and several other countries.
--------
Driven by Nature books are available for purchase online and in select shops. Visit online the local St. Louis favorite Left Bank Books, opened in 1969 by a group of graduate students at Washington University. Missouri Botanical Garden members receive a discount if they order online from MBG Press. Please contact membership@mobot.org for your 20% coupon code before ordering.