Senior Class Gift
About
Your gift to WashU as part of the senior class is a chance to participate in a legacy of commitment that will benefit future students for many years to come.
Why Give?
Your senior year is a time to reflect on your past and prepare for your future. This is your chance to acknowledge the transformative educational experience you've had at WashU. Most students don't know that tuition covers only about 80% of the cost of a Washington University education, so gifts of all sizes from alumni, parents, and friends help make up the difference each year. In fact, gifts of $100 or less make up more than $1.8 million toward the annual fund, which can significantly help bridge the gap between tuition and the full cost of a high-quality education. When you participate in your Senior Class Gift with a gift of any size, you make WashU's life-changing education possible for future students.
Interested in getting involved?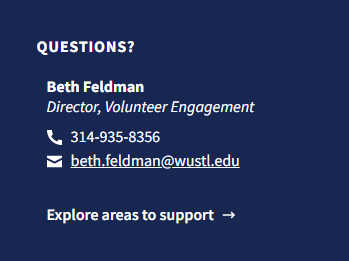 We welcome volunteer leaders from the senior class to help raise awareness and excitement for the Senior Class Scholarship Fund. If you would like to learn more about this volunteer opportunity, check out the FAQs here.
Not sure where you want to designate your gift? Your gift or pledge of any amount will help the Class of 2023 meet its goal, and you choose the school, scholarship, or program that is most meaningful to you.